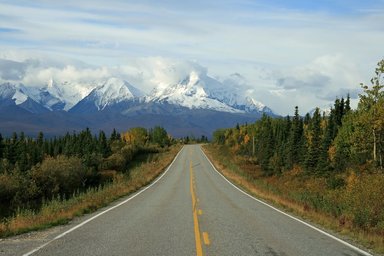 Yesterday in Part 1, we looked at the best time to visit Alaska and the can't-miss things to be sure to see on your trip. Today, we'll take a look at things like getting around the state, picking a suitable vehicle for your trip, some driving tips, and of course, getting a great rate in the process—no small feat when prices in the summer can soar to sometimes north of $200 per day. (Note: if you can follow my hint from part 1 of this series to go during shoulder season, your rental car will likely be a lot cheaper.)
Traveling Around Alaska
By far the best way to see the state is with your own four wheels. Public transportation options are limited and expensive in Alaska. The Alaska Railroad is a fantastic operation, and I highly recommend a trip, but it's much more expensive than similar Amtrak trips in the Lower 48 (north of $200 one-way from Anchorage to Fairbanks in regular coach class—ouch!). A few private bus and van operators offer limited specialty trips around the state, but if you want to get out of Anchorage (and you do—Anchorage's claim to fame is that it's 10 minutes to Alaska) and actually see Alaska's natural beauty, you'll want a car.
Alaska rental car rates are expensive in the summer. From June through August, rates rarely dip below $50 a day for the smallest cars and often hover around $80-90 a day, sometimes more, for a normal midsize car. Larger specialty cars like vans and SUVs can shoot past $200 a day. With an entire tourist season compressed into three months, there's no getting around summer rates except for just not coming during the summer. (That's one reason why I so strongly recommend shoulder season, when rates are much more likely to be in the $30-a-day range or less.) Of course, check with AutoSlash to find the best rates no matter when you come—sometimes our magic wand can uncover some hidden deals!
For a shorter business trip where you'll be staying in Anchorage, you may be able to get by without a rental car—especially in light of the law passed recently restoring Uber and Lyft to the Alaska transportation scene. As well, taxis are plentiful at the airport, though reliability and timeliness outside of the airport is a little less consistent. The bus system has recently made some strides to improve access to the airport, but the People Mover is (sadly) a system of last resort for almost anyone needing to get around the city. Fairbanks and Juneau are similarly situated.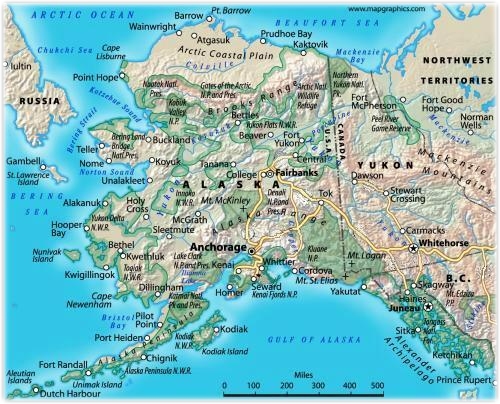 Renting A Car in Alaska
Alaska's big three airports are Anchorage (the busiest, by far), Fairbanks, and Juneau. You'll find most of the major brands at all three, and some smaller destinations may have one or two of the big brands represented.
A few notes about the Alaska rental car market:
Alaska is big. The distance between Fairbanks and Juneau is slightly less than the distance between Chicago and New York (and a little more than the distance between Los Angeles and Salt Lake City). Don't expect you can fly into Anchorage and see the whole state in three days!
While Anchorage and Fairbanks are connected by road, Juneau is entirely off of the road system, and it's not possible to drive there (at least not without a multi-day drive through Canada plus an expensive ferry ride—both things most rental companies in Alaska prohibit). Plan to do Southeast Alaska on a different trip.
Speaking of the road system, while it is possible to do a one-way rental from Anchorage to Fairbanks or vice versa, only a couple of companies allow it, and drop fees are extremely high. The same goes for other common city pairs, like Anchorage to the cruise ports of Seward and Whittier. Check rates early and plan accordingly.
Rental car taxes at the Anchorage airport total 29.11% plus $7 per day in mandatory taxes and fees. Renting off-airport knocks that down to a total of 18% tax (10% state and 8% city). In the summer, rates at off-airport locations can often be significantly cheaper than the heavily-in-demand airport, so it's a double savings. In winter, though, competition at the airport is fierce, and rates can drop into the single digits as supply vastly outstrips demand, while rates off-airport rarely go below $20 a day. While the airport will be the only option for late night arrivals, check both on- and off-airport if you're picking up in the middle of the day—a taxi/Uber/Lyft from the airport into town will run about $15-20, and there's even a bus route that runs from the airport to downtown for $2 that passes off-airport offices belonging to Enterprise and Dollar/Thrifty and terminates a short walk from Hertz and Avis's downtown offices.
Most rental companies in Alaska are franchised, not corporately owned. Expect some unique policies and restrictions, and don't expect a lot of services you might be used to at rental locations "Outside." Outside of Enterprise and some Hertz locations, customer service and corporate oversight of local operations is limited at best.
Speaking of special policies, probably the biggest one to make note of is the fact that most rental companies prohibit driving on unpaved roads. While the main highways in Alaska are paved (and typically in very good condition given the harsh climate), some minor destinations are only accessible by gravel road. If anyone's told you to visit the Kennecott copper mine ruins in McCarthy or that a trip to Prudhoe Bay is a must-do, the rental companies will beg to differ, and driving on such roads would be a violation of the rental agreement (and yes, people have been stuck with thousand-dollar tow bills when something's happened out there). Stick to the pavement.
Some of the smallest destinations might not have any national chains or even anything bookable online. I recently rented a car in Cordova from an outfit whose website reservation system consisted of an email form and a reply from the guy that I "shouldn't have a problem" getting a car on my arrival. (Needless to say, AutoSlash can't really find discounted rates for those operations!)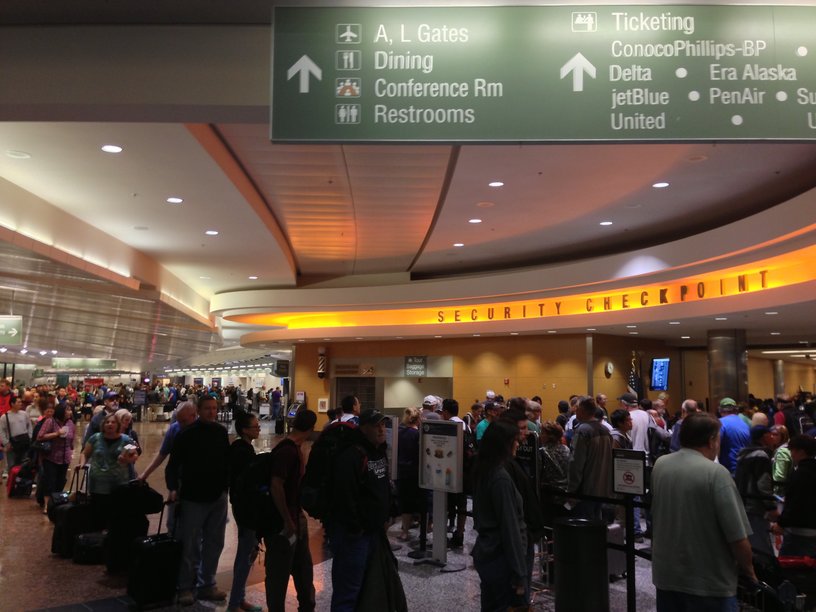 A typical midnight scene at the Ted Stevens Anchorage International Airport.
Land of the Midnight Car Rental
Red-eye flights are the rule more than the exception in Alaska, especially in Anchorage. The Anchorage airport concourse at 1:00 AM looks busier than most other terminals do at 1:00 PM. If your flight is arriving late at night, don't worry too much—most rental companies are open well past midnight. Check your company's hours, though, and be sure to leave a bit of a buffer—few of the rental agents at the Anchorage airport will stay past closing, even when flights are delayed. (Remember, most agencies in Alaska are franchised, so corporate standards are followed loosely, at best.)
If you do find yourself on a delayed flight and running up against—or past—the office's closing time, try the following:
Call the local office directly before they close (before your flight departs, if necessary). Speaking to the person who's most likely going to be the one helping you when you arrive increases your chances of getting a car past closing time.
Head for the car rental counter first—before you get your baggage. Once you have a key in your hand, you can take as long as you need to go back and get your baggage.
If you talk to an agent on the phone who doesn't seem willing to help and stay, let them know you're aware they're doing you a favor and assure them you'll rush straight for the counter as soon as the flight lands. It also might not hurt to bribe them with the promise of a $10 Starbucks gift card—most rental car agents at the Anchorage airport are Starbucks addicts (there's a Starbucks near the Alaska Airlines ticket counters). Yes, you shouldn't have to do this, but if you want a car that night...
Ask the agent on the phone if they can arrange to have a competitor who is open later honor your rate. Most agents are friendly with the agents at other companies.
If they can't stay and can't make alternate arrangements, you might be forced to get the car the next morning. Make sure they put notes in that your flight was delayed so your reservation is saved for the morning. Ask them, too, if they can transfer your reservation to another location in-town: not only will you have a shorter ride to the rental office (and some will even pick you up for free), but you may be able to avoid the airport taxes, which can save about 12% or so on your rental rate.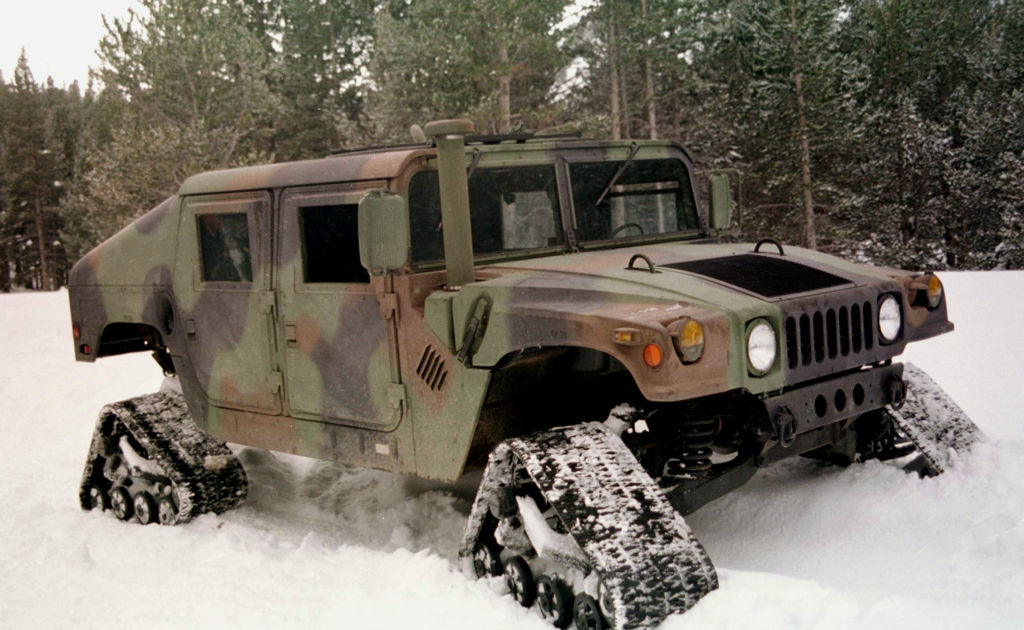 DoD photo by Lance Cpl. E.J. Young, U.S. Marine Corps. [Public domain], via Wikimedia Commons
I Need an SUV in Alaska, Right?? (or, A Nissan Frontier For The Last Frontier)
I survived my 17 years in Anchorage in regular two-wheel-drive Toyotas and Nissans. While trucks and SUVs are popular among the locals (as you'll notice in any parking lot), summer tourists can get by perfectly fine in whatever size car fits your people and luggage. SUVs and vans are definitely roomier and sit up higher for better views along the highway, but there's no reason a regular two-wheel-drive sedan can't get you anywhere you need to go in the state (and with better fuel economy—Alaska's gas prices are some of the highest in the nation, even though it's an oil-producing state).
Even in winter, a regular car is generally fine if you're just tootling around the city. If you're visiting friends out of town or in some of the steeper hillside neighborhoods, they can tell you if you need four-wheel-drive, but Alaska does a pretty good job of keeping the streets plowed (and graveled) after snowfall, and traffic in the cities and along major routes tends to wear through the snow to the pavement, keeping roads mostly dry and ice-free.
It's warmer and snows much less frequently in Southeast, and Interior Alaska is relatively dry and sees much less snow (though bitter cold temperatures, of course). While four-wheel-drives are universal among trucks and SUVs in Alaska (I didn't even know they made SUVs without four-wheel-drive until I moved to the Lower 48), it's quite easy to get around pretty much all of the urban areas of the state with just a two-wheel-drive.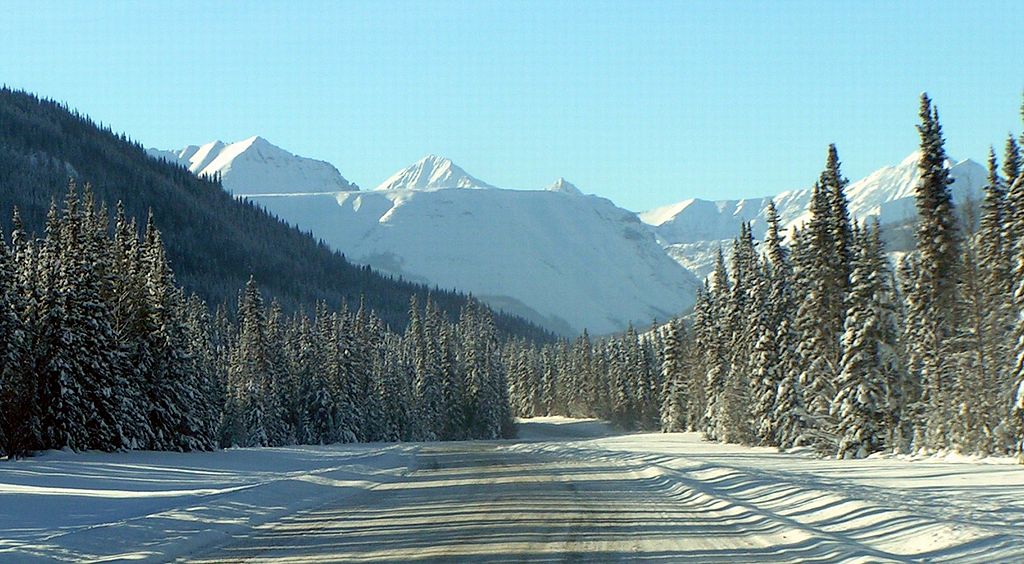 Qyd (talk · contribs) (Self-photographed) [GFDL, CC-BY-SA-3.0 or CC BY 2.5], via Wikimedia Commons
AutoSlash Winter Driving Tips
Yes, it sometimes seems to locals that winter is nine months of the year, but it's (usually) not quite that bad. If you do find yourself in the state between October and April, though, and you aren't an experienced winter driver, here are a few tips:
This almost goes without saying, but watch your speed. All of the issues with braking distance and reaction time are magnified on slippery roads.
Keep a lot of distance between you and the car in front of you. The common defensive-driving technique known as the "two second rule" should probably be extended to a four-second rule in winter. You'll even notice locals leaving a good one or two car lengths between cars at stop lights.
Keep a light foot. While traction control and antilock braking systems help, quick changes can break traction. If your wheels are spinning, you're pressing the pedals too hard—let off and try again with a lighter touch.
If you find yourself entering a skid while turning, always turn into the spin. It's counterintuitive to dry-pavement drivers, but turning into the slide helps you regain traction. For example, if you turn to the left and the back of your car starts to slide to the right, turn the wheel to the right and you'll usually feel your tires grab. (Then gently press the brakes, slow down, and turn less steeply.)
Remember, four-wheel-drive helps you get started moving easier but makes no difference for stopping distance. While SUVs often have more aggressive, grippy tires and heavier weights that make for better traction, an SUV can lull you into a false sense of overconfidence. Don't drive beyond the conditions, no matter what kind of vehicle you're in!
Studded tires are available in winter months from some companies for an additional fee. They can help a little bit on very tightly-packed snow or on ice (usually found when the weather's hovering around the freezing point and snow has been melting and refreezing), but they're not magical crimp-ons for your tires, so don't over-drive.
In Fairbanks, you'll find that most parking lots have outlets in front of each parking spot. Your car's engine likes the -40° temps about as much as you do—most cars in Fairbanks will come with a cord dangling out of the front of the grille, and you're supposed to plug that into the outlet in cold weather (anything below about 0° F). That's for the engine block heater, which keeps the engine's core warm so that the oil remains thin enough to keep everything lubricated. That makes the engine a lot easier to start (and keeps the wear and tear down while the engine heats up).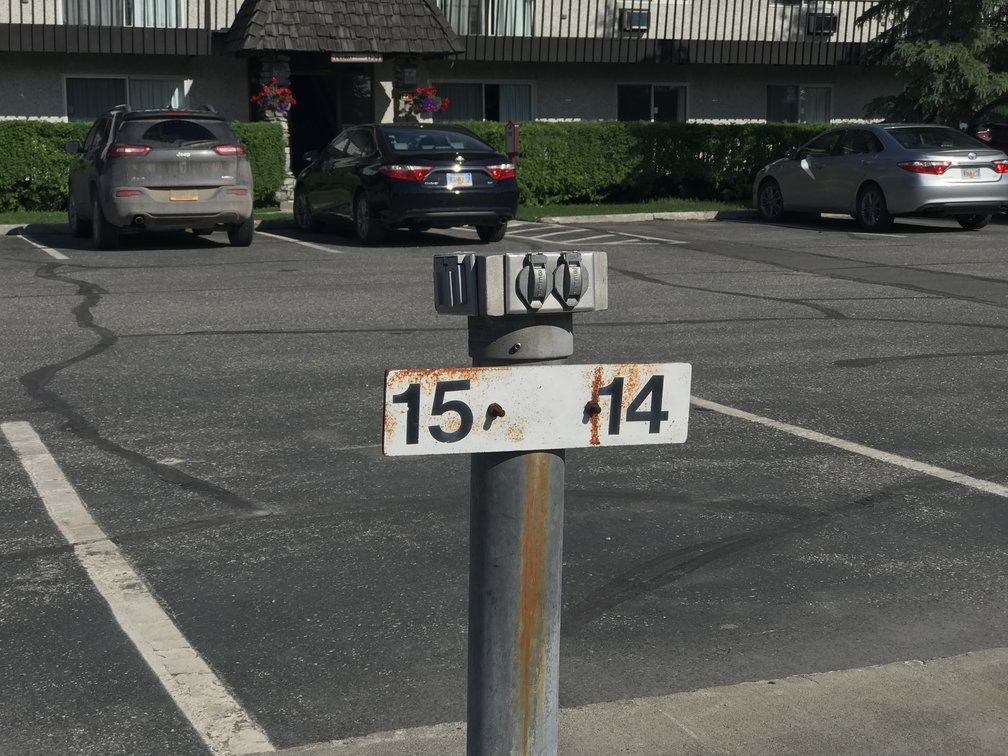 These are not for charging your iPhone.
If you're renting in Anchorage and plan to head into Interior Alaska in the winter, you might ask about finding a car with a block heater. If you can't get one, you might think twice before shutting the engine off when you get to your destination! (If you're staying in Southcentral Alaska, block heaters aren't necessary—even on record-cold days, you won't have any trouble starting up your car, and any potential long-term damage won't be your issue to worry about.)
When To Book
With AutoSlash, the answer is always simple: as soon as you know your dates! Because AutoSlash checks your rate every day and helps you rebook (for free) when rates drop, there's no downside to booking early. Sometimes booking super early can help you snag a great rate. If you can book as close to a year out as possible, you might even be able to catch a cheap summer rate before the rental companies have really started to pay attention to (and raise) their summer rate plans. Even if it's too late for that, don't worry: click here to request a quote now and we'll help you find the best deal.
Also, cars are in very high demand in the summer. If you wait too long to book, you might find that some specialty car classes—especially vans and SUVs—might be sold out.
That said, rates do sometimes soften a bit at the last minute when the demand doesn't quite exceed supply. (Again, that's where AutoSlash's rate-tracking function comes in.) The busiest weekend of the year is the one closest to the summer solstice (June 21), but outside of that, there's at least some occasional hope of a last-minute rate drop (or even a walk-up special), though rates will generally never be cheap. Summer in Alaska is often a good use of rental car rewards points for free days.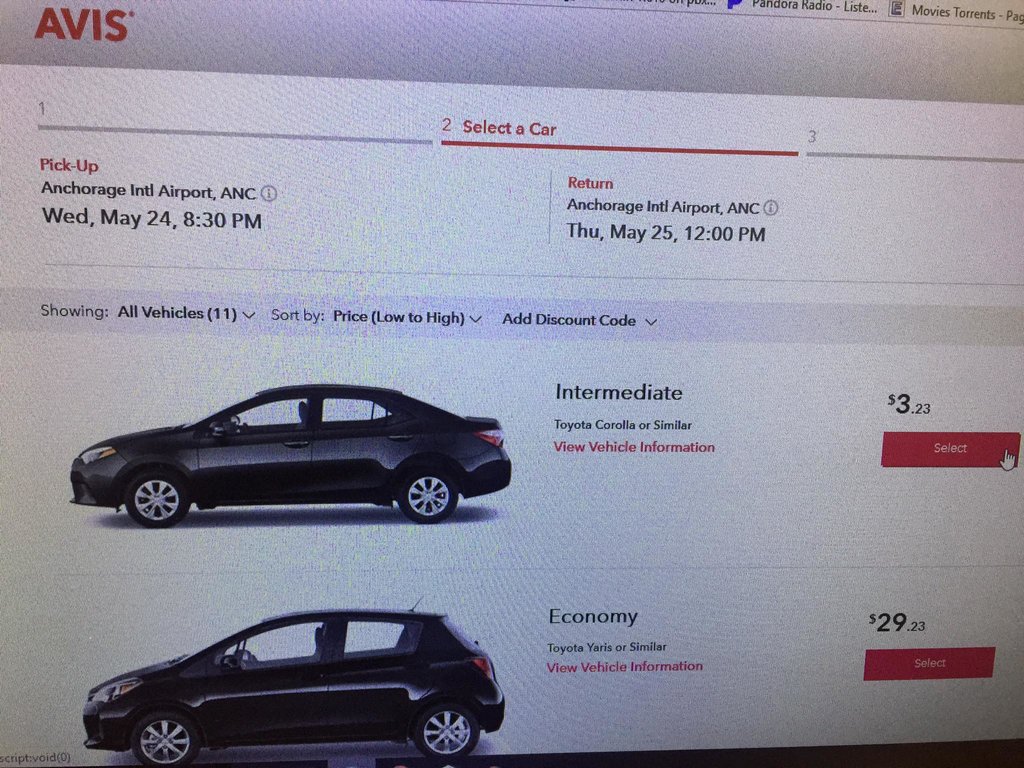 Results may not be typical…
Winter is a completely different story. The lowest intentional rate I've ever seen posted was $6 per day. When there are a lot of cars sitting around and the franchise owner's choice is between paying money to rent an overflow parking lot or giving cars away for well below cost, the smart owners often do the latter. With few tourists and fleets mostly sized for summertime peak season, rates are often (official industry term) "in the toilet."
Further Assistance
Many of us on the AutoSlash staff have experience traveling extensively in Alaska (two of us have even lived there). We're always glad to help fellow travelers maximize their travel experiences (and minimize their expenses). If you have any questions about anything Alaska—renting cars or more—just shoot us an email and we'll do our part to help make sure your trip is a great experience!